Centre County is home to a wealth of accessible Agventures destinations for farm-fresh food, flowers, handmade goods, and more. Here are our top farm store picks in Happy Valley!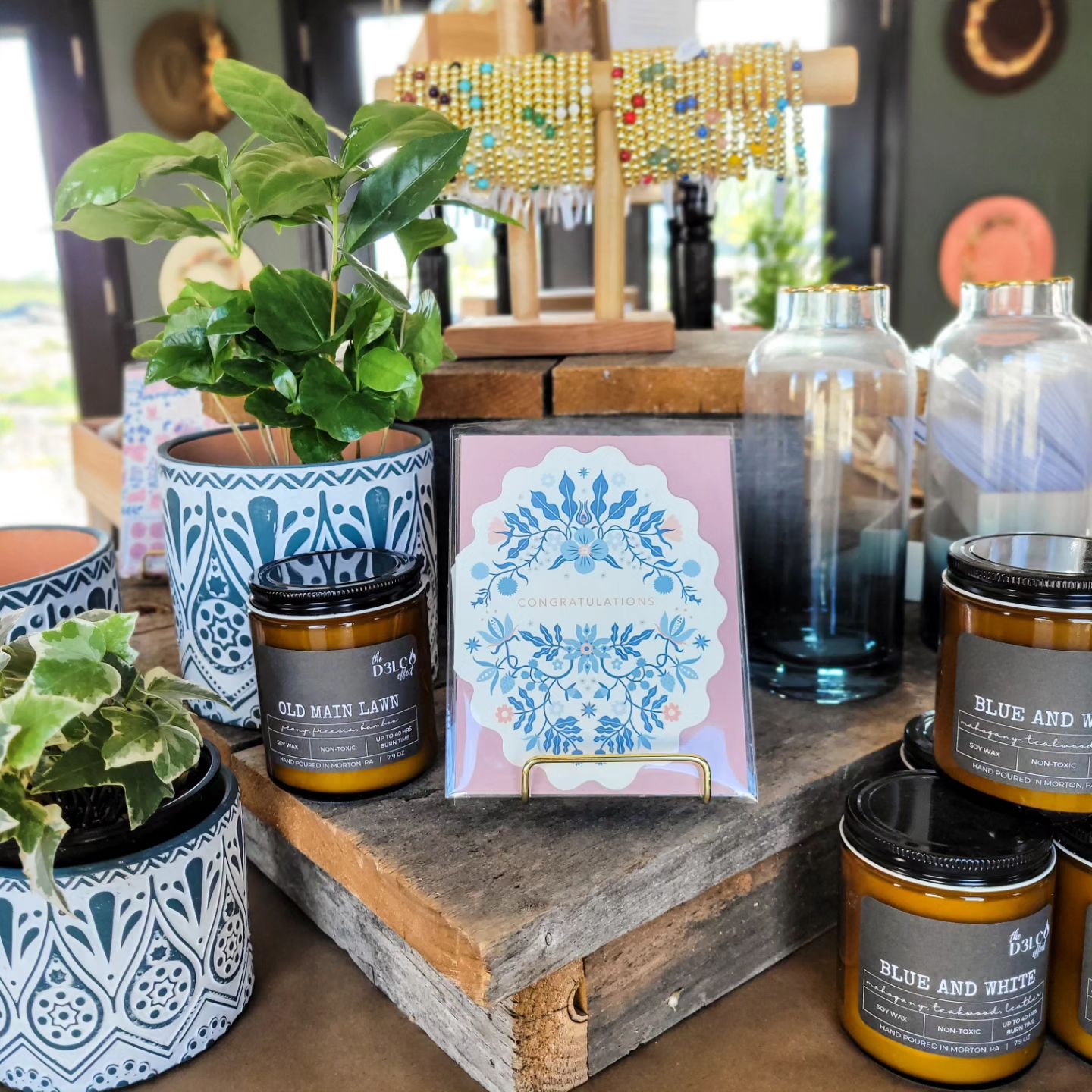 Rooted Farmstead
138 Scott Ave, Bellefonte
Rooted Farmstead is a flower farm specializing in fresh-cut flowers and family-friendly farm events, but their farm store is a shopping destination stocked with a curated collection of flower-filled gifts. This first-generation family-run farm has a passion for botany and all things floral. Their items range from garden to gathering and everything in between!
What's New
The latest featured goods in the farm store include Flouwer Co. cocktail cubes crafted with organic, plant-based ingredients to add a floral finish to any drink, locally-crafted Made By Ali G gold necklaces stamped with every birth month flower, hand-poured sustainable soy candles from Penn State alum-run company D3LCO Effect, and biodegradable greeting cards that grow fresh wildflowers when planted!
Popular Picks
Fresh-picked, beautifully arranged grab-and-go bouquets are flying off the shelves at Rooted Farmstead this summer, closely followed by trendy lavender products ranging from fresh lavender and dried lavender to lavender candles and lavender cocktail cubes. The lavender craze has inspired an entire Lavender Haze event on Friday, July 7 at the farm!
Exclusive Finds
The Rooted Farmstead farm store is the only destination in Happy Valley that offers an almost entirely flower-themed range of products—whether growing flowers, harvesting flowers, designing with flowers, or simply enjoying botanical beauty.
Rooted Farmstead recently launched its Summer Event Calendar, packed to the brim with flower-forward, fun-focused events for everyone in the family. Check out all of their events at www.rootedfarmstead.com!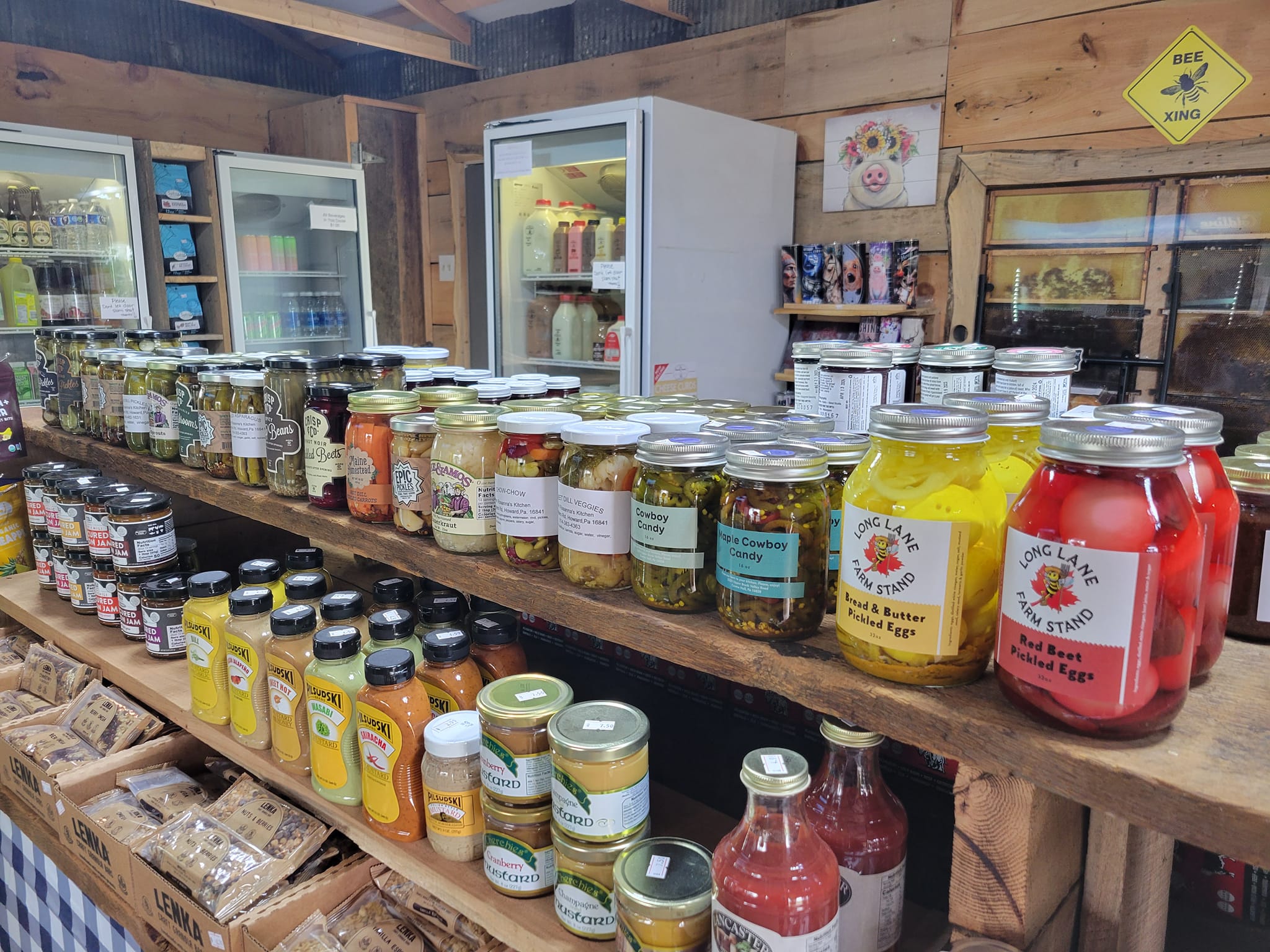 Long Lane Farm Stand
2353 Upper Brush Valley Road, Centre Hall
Long Lane Farm was established in 1954 as a dairy and crop farm and has remained a local mainstay for farm fresh food. In 2015 the Long family sold off their dairy herd and ever since have focused on growing farm-fresh produce. Open year-round, this family-owned farm has amazing farm-grown goods and a variety of locally produced products. The farm stand also sells delicious raw honey, fresh baked goods, flavored honey sticks, and homemade applesauce.
What's New
With the warmer weather comes Long Lane's Outdoor Market on the 2nd Saturday of every month. The market boasts dozens of local vendors and a wide variety of arts and crafts, clothing and accessories, home decor, food, and more!
Long Lane Farm Stand also serves their one-of-a-kind burgers every Saturday from 11 AM to 3 PM. Their "From The Grill" menu includes Angus Smash Burgers, bison hot dogs, and fresh homemade pasta salad, potato salad, and cole slaw. Their meat is all locally sourced, with beef raised on-farm at Long Lane Farm and bison hotdogs from Brush Mountain Bison in Spring Mills!
Popular Picks
Long Lane Farm Stand's locally-sourced ice cream handmade at The Reedsville Creamery is the perfect complement for a warm summer's day, making it a popular item among customers. Don't miss their 8-oz individual cups in all of your favorite flavors! Try out the local favorite teaberry, a popular nostalgic flavor with notes of fruit and mint.
Exclusive Finds
Long Lane is known for their signature Cowboy Candy—a product that they make on-site at Long Lane Farm. Cowboy Candies are delicious spicy-sweet candied jalapeños, good for topping a number of dishes: sandwiches, nachos, pizza, eggs, and more! Long Lane Farm also sells Cowboy Candy pickled eggs as well as their other flavors of homemade pickled eggs—a Pennsylvania classic!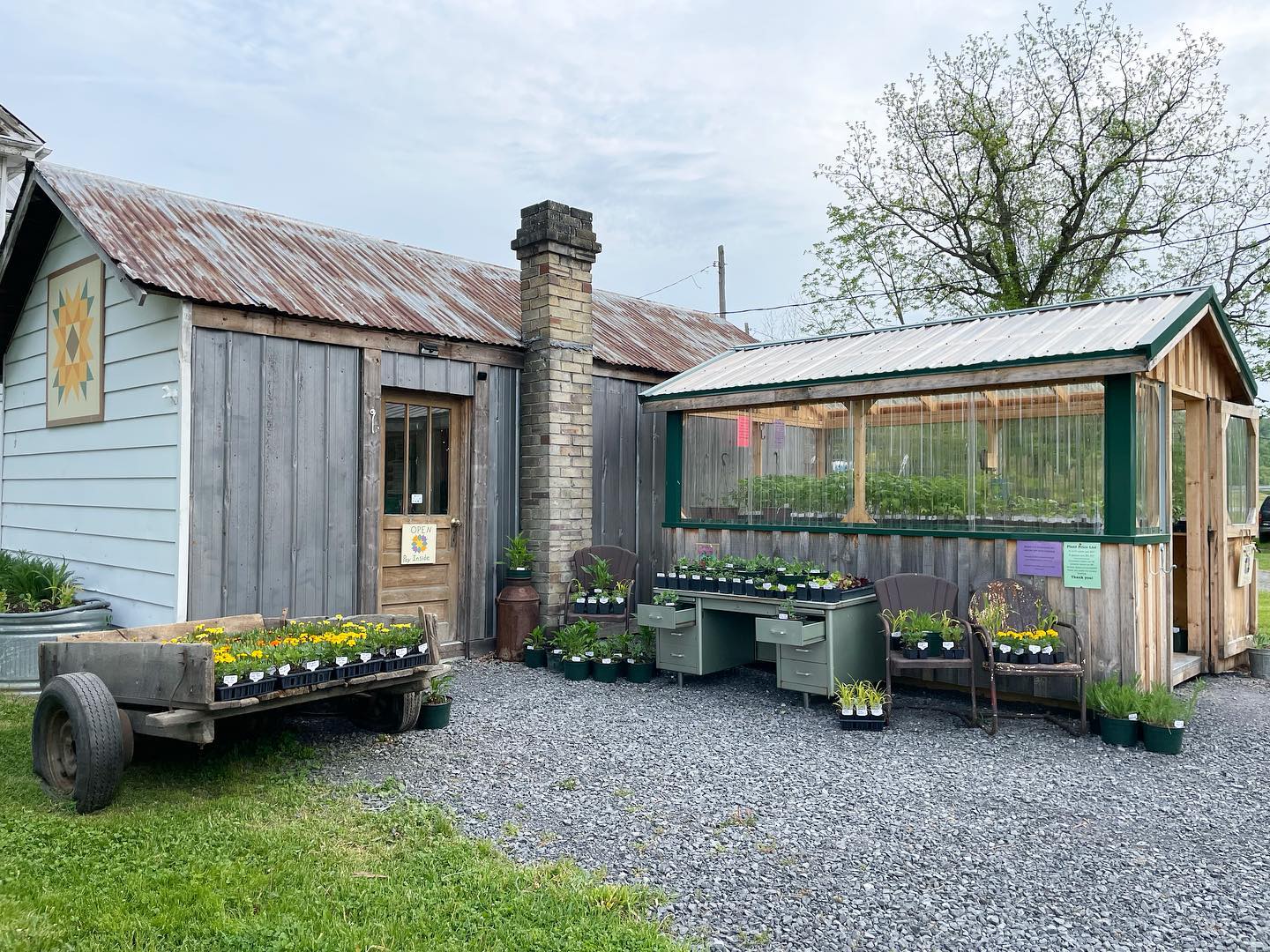 The Heirloom Farmer
7447 South Eagle Valley Road, Port Matilda
The Heirloom Farmer is dedicated to organic produce grown from seed on farmland that's been in the family for more than 100 years. Abbie Spackman and her family produce heirloom products to bring quality and abundance to your table, with products ranging from fresh-cut flowers to gardening supplies and live plants!
What's New
There are plenty of reasons to visit the family farm all season long, but the end of winter means the transition to summer and fall gardening in the greenhouse! You can find patio tomatoes, mixed planters, hanging baskets, and perennials for sale. In the market, they boast all of the essentials for a healthy summer garden: seed packets, organic fertilizer, hay, straw, and more. The Heirloom Farmer will be adding more plants over the next few weeks, including a unique selection of fall vegetable starts and flowers. Out in the fields, they are busy preparing for their popular late summer activities, like their vibrant sunflower field!
Popular Picks
The Heirloom Farmer's farm market and greenhouse are more than just a place to stop and shop, they're a destination for photo ops (they're currently featuring a flower board and a rustic covered wagon) and home to a one-of-a-kind library. Stop by any day during daylight hours and grab pictures with family and friends!
Exclusive Finds
The Heirloom Farmer uniquely features their Perennial Learner Library with a great selection of homestead, gardening, and other farm-related books. Be sure to stop by and grab a few for some relaxing reading on summer vacation!
Sign up for their newsletter or follow The Heirloom Farmer on social media and be the first to know about sunflower days, fresh-cut flowers, fall vegetable starts, and much more!
Tait Farm Harvest Shop and Greenhouse
179 Tait Rd., Centre Hall
Located a few miles from Penn State's campus, Tait Farm has been a Happy Valley staple for artisan products and specialty foods since 1987. The Harvest Shop at Tait Farms is the flagship store for their nationally recognized specialty food company, Tait Farm Foods. Every small-batch product is made by hand in Happy Valley with all-natural ingredients. The Harvest Shop is a perfect destination for an Agventure shopping trip, and Tait Farm's Greenhouse has been dubbed the "secret garden" with their great selection of seeds, herbs, and vegetable seedlings and a beautiful selection of annuals and perennials.
What's New
Tait Farms recently launched their Farm Fridays - every Friday from 10:00 am to 5:00 pm they offer fresh Tait Farm organic and local produce, local baked goods, fresh flower arrangements, and a huge assortment of other delicious local specialty foods. They also share a cheese pairing highlighting a Pennsylvanian artisan cheese complimented with a Tait Farm Savory Condiment, Fruit Spread, or Mustard.
Sampling Saturdays are the perfect complement to their Friday activities. Each Saturday under the big tent, rain or shine, they will feature a different tasting theme with Tait Farm and Pennsylvania Pantry specialty foods. Come taste an abundant selection of farm-fresh goods!
Popular Picks
Tait Farm's fresh produce is a consistent draw to their Harvest Store, as well as their line of specialty foods. Their store is also a decor destination, with French tablecloths, wooden boards, and festive serving bowls, plus a trove of entertaining ideas, recipes, and more!
Exclusive Finds
Tait Farm's signature Fruit Shrubs are a popular pick for sipping mocktails and cocktails on a summer's day! What began as an overabundance of fresh raspberries back in 1987 was transformed into Raspberry Shrub at Tait Farm's beginnings, and the store now features a shrub in every fruity flavor!