Wildfire Ranch -Spiritual Retreat
Wildfire Ranch -Spiritual Retreat
332 Harter Road
Spring Mills, PA 16875
https://www.facebook.com/Wildfire-Ranch-Spiritual-Retreat-116892005031636/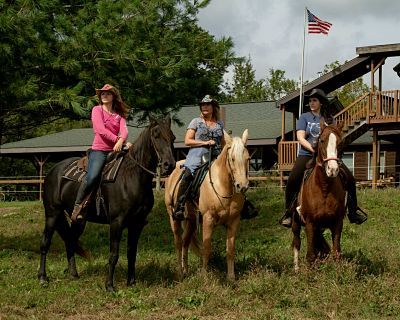 Wildfire Ranch Spiritual Retreat is a peaceful paradise located in the heart of Spring Mills, PA. We offer:
Public Guided Horseback Trail Rides. Wildfire Ranch is proud to be one of the only places left in Pennsylvania offering unforgettable 2-2.5 hour mountain adventures by horseback for ages 12-75 years. Cost is $105 per person.
Horse Therapy for Depression. With the epidemic of depression in America more and more people are seeking alternative depression therapy, Wildfire Ranch offers equine therapy for depression, anxiety and anger with irrefutable results! Best of all we offer overnight accommodations for those wanting to stay overnight.
Vacation on a Dude Ranch! Have you always wanted to ride a horse? Vacation on our horse ranch for an overnight or a week-long getaway with your loved ones. We offer "Whispering Winds" guestroom for up to 2 guests and our popular "Amish Country Apartment" for up to 5 guests. Then for large groups up to 10 guests we host you in our "Ponderosa Lodge." An authentic Amish-crafted campfire pit and 1,400 sq. ft. covered deck complete the experience for hours of relaxation in between horse activities.
Wildfire Ranch Spiritual Retreat is also a great place to hold your next event, including weddings and birthday parties.
Call 814 422-0534 for more information.
Special Events
Kids camp
Features
Visitor Parking Available
Restrooms
Kid Friendly
Stay Overnight
Group Tours Available
Classes Available
What Is Available
Available for Event Rentals