RE Farm Cafe at Windswept Farm
RE Farm Cafe at Windswept Farm
1000 S. Fillmore Road
State College, PA 16803
https://www.facebook.com/RE-Farm-Cafe-862874947067586/
https://www.instagram.com/re_farm_cafe/?hl=en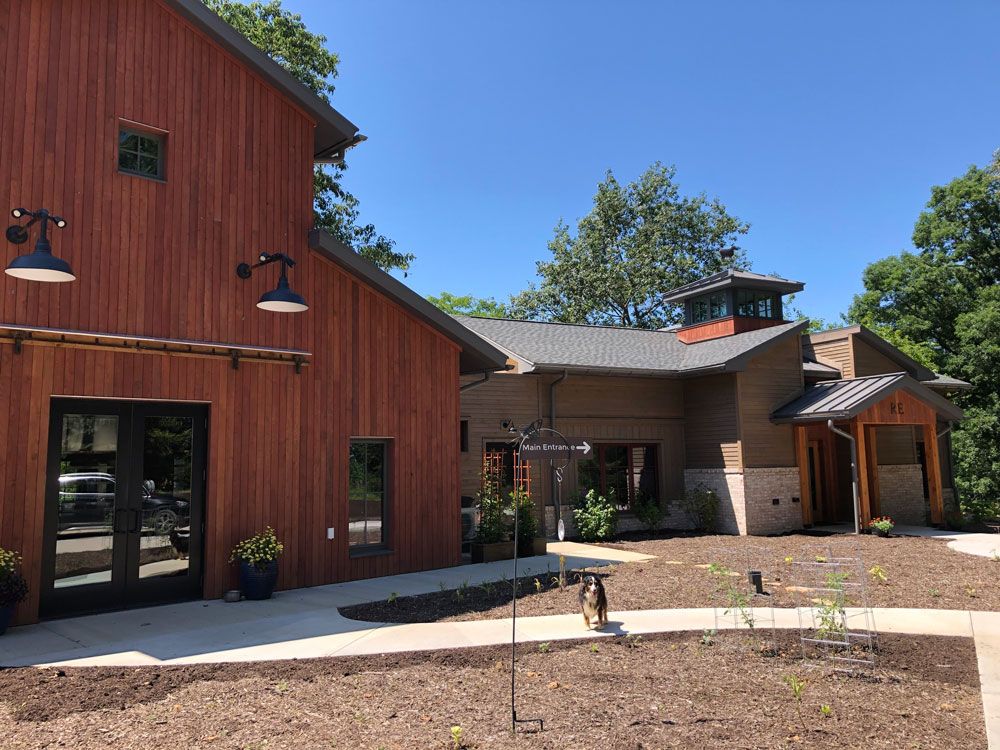 RE Farm Cafe is a one-of-a-kind dining experience on a beautiful working farm, REdefining the meaning of local foods while embracing regenerative thinking and organic practices. Incredibly talented chef composers perform from an open kitchen stage preparing deliciously adventurous dishes highlighting what is fresh on the farm and other local farms. RE Farm Café, offers a unique dining experience that serves as a community resource providing educational opportunities while expanding the diversity of agricultural growth opportunity. RE is designed to optimize a healthy community of individuals who value our natural environment, sustainability, have a concern for the future, and a commitment to healthy food, grown with responsible intentions. RE sets new food service industry standards for local sourcing and sustainability. RE Farm Cafe seeks to enhance the quality of life for the community by offering an innovative opportunity to learn, participate, and experience true, realistic sustainable practices through a unique dining experience. #whereyoucanseeourfarmfromyourtable
A one-of-a-kind dining experience on a beautiful working farm, REdefining the meaning of local foods while embracing regenerative thinking and organic practices. Incredibly talented chef composers perform from an open kitchen stage preparing deliciously adventurous dishes.

RE Farm Café, will offer a unique dining experience that serves as a community resource providing educational opportunities while expanding the diversity of agricultural growth opportunity. RE is designed to optimize a healthy community of individuals who value our natural environment, sustainability, have a concern for the future, and a commitment to healthy food, grown with responsible intentions. RE will set new food service industry standards for local sourcing and sustainability. Engaging in the rigorous standards set forth by the LBC, RE will be a model for future endeavors. In addition to providing a community resource for sustainability, RE will provide a living, working lab for the public, university students, farmers, school aged children, and learners of all ages.
Ultimately, RE will enhance the quality of life for the community by offering an innovative opportunity to learn, participate, and experience true, realistic sustainable practices through a unique dining experience.
Classes Information
Whether learning the basics, introducing yourself to new foods or mastering techniques, each of our Composers has a unique skillset and knowledge of both food and farm to offer you a cooking experience catered just for you. We will provide a memorable experience and lasting knowledge that you can take with you!
Special Events
Wedding
Retreat
Corporate Event
Workshop
Baby Shower
Bridal Shower
Retirement Party
Holiday Party
Family Reunion
Celebration of Life Gatherings
Food Served
Offering Thursday Tapas and Summer Picnics, Dinner Friday/Saturday, and many unique special events and classes! Reservations for experiences are sold as tickets in advance. You can purchase your tickets online.
Features
Visitor Parking Available
Restrooms
Handicap Accessible
Kid Friendly
Classes Available
Buy Products Directly
Free WiFi
What Is Available
Food Served
Available for Event Rentals
Event Contact: events@refarmcafe