Meyer Dairy Store
Meyer Dairy Store
2390 S. Atherton St.
State College, PA 16801
https://www.meyerdairyfarms.com
https://www.facebook.com/meyerdairystore/
https://www.instagram.com/meyerdairy/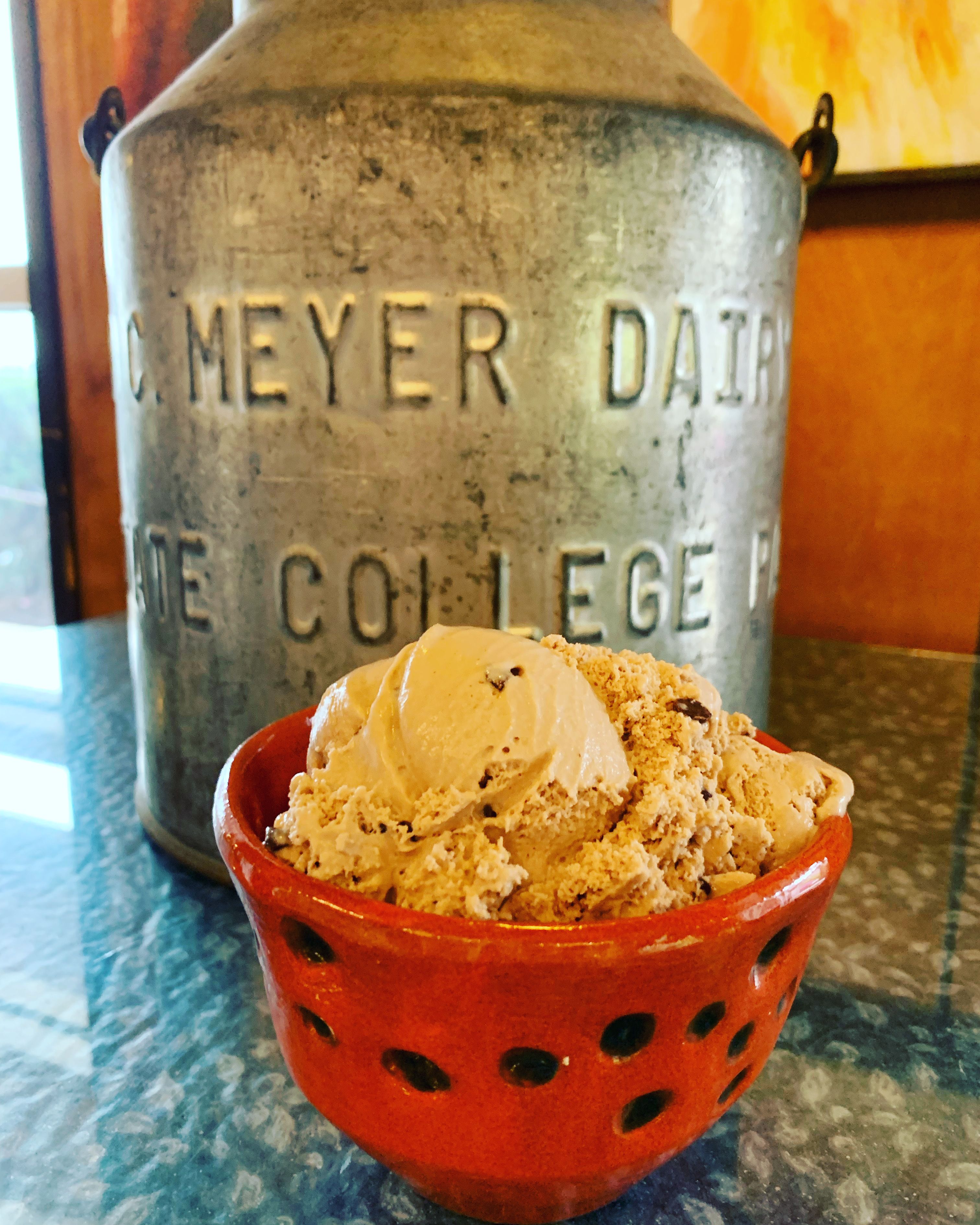 Meyer Dairy Farms' 200 Holstein (black and white) cows are at the heart of the year-round "moo-st memoo-rable" family dairy farm experience in Centre County, Pennsylvania.

We offer all of our customers freshly glass bottled milks, heavy cream, eggs, 40+ year-round, seasonal and limited-edition ice creams flavors (both scooped for handcrafted cones, bowls, sundaes and milkshakes), and celebratory ice cream cakes. Some of our ice cream flavors are unique to the Central Pennsylvania region -- Teaberry, Butter Crunch, Rum Raisin, Grapenut, Maple Walnut, Lemon Custard and Coconut Chip. There are also your common ice cream flavors like Vanilla, Chocolate, Mint Flake, and Butter Pecan. We have some fun flavors as well such as Cow Tracks, Chocolate Chip Cookie Dough and Chocolate Chip Brownie Dough.
The family-owned farm is operated by multi-generations of the Meyer family. The first Meyer Farm was purchased in 1887, located on West Branch Road in State College by W.C. Meyer (great grandfather of current owner, Dennis Meyer). From 1910-1947 the Meyer family delivered milk by horse and buggy to the State College area. In 1970, Joseph C. Meyer Jr. built the current dairy store location. Joseph and his wife Carolyn owned and operated the dairy store until they passed away in 2021. Dennis works and manages the 1,000 acres that provide the lush hay, alfalfa and clover and savory corn to feed the milk-producing herd that is milked two-times a day, seven days a week to supply the retail store operations with farm fresh products. Two of Dennis Meyer's children - Steve Derr and Shannon Gibson - also manage and actively engage in daily operations of both the retail dairy store and farm. The Meyer family remain all about farm to table after nearly 135 years!
Meyer Dairy products have been processed daily onsite since 1887, when milk was delivered in glass bottles by the J.C. Meyer Dairy wagons to families' doorsteps and local stores. The Dairy Store opened in 1970 to serve the expanding needs of the community for local milks, heavy cream, cheeses, eggs and ice cream.
Today, in addition to fresh, daily made Meyer Dairy products, customers will also find local artisan-made and Pennsylvania-made products featured to not only support other local and agricultural entrepreneurs but to also compliment our Meyer Dairy products. Make a delicious brunch, lunch or dinner charcuterie board featuring local specialty- and aged-cheeses, mustards, dips, jams, salsas and spreads. Create delicious cream sauces with Meyer Dairy heavy cream or milks to top local freshly made, refrigerated traditional and specialty pastas. Create your own sundaes or milkshakes at home, scooped from Meyer Dairy ice cream half gallons and topped with Pennsylvania-made chocolates and jams and your own whipped cream created from Meyer Dairy heavy cream.
Food Served
What is available:
Meyer Dairy ice cream – 40+ year-round seasonal favorites and limited-edition flavors

Scooped to order cones, sundaes and milk shakes

Meyer Dairy celebration ice cream cakes – 8-, 9- and 10-inch round (always available) and specialty design (advanced order required)
Meyer Dairy glass bottled milks – 2%, skim and whole white and chocolate
Meyer Dairy heavy cream quarts and pints
Meyer Dairy grab-and-go milk quarts and pints
Meyer Dairy farmer's cheese blocks
Meyer Dairy brown and white eggs by the dozen
Local dairy butter quarters by the pound
Local artisan and specialty cheeses – curds, wheels and blocks
Local artisan spreads and dips
Local handcrafted fresh pastas
Local honey and maple syrup
Pennsylvania-made artisan and specialty chocolates
Pennsylvania-made grab-and-go snacks
Features
Visitor Parking Available
Restrooms
Handicap Accessible
Kid Friendly
Buy Products Directly