Centre County Farm Routes
Centre County Farm Routes
PO Box 604
Centre Hall, PA 16828
https://www.centrecountyfarmlandtrust.org/
https://www.facebook.com/centrecountyfarmlandtrust/
https://www.instagram.com/explore/locations/612762092112891/centre-county-farmland-trust/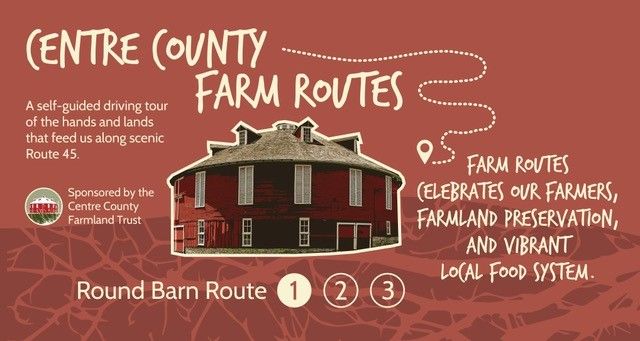 Follow @centrecountyfarmtrust on Facebook and Instagram for updates, promos and prizes. Sign up for the Centre County Farmland Trust email list at the CCFT website: www.centrecountyfarmlandtrust.org. The Centre County Farmland Trust hosts the annual Centre County Farm Tour.

ABOUT THE CENTRE COUNTY FARMLAND TRUST: The CCFT was founded in 1994 as a public, non-profit land trust dedicated to protecting farmland and open space in Central Pennsylvania. We work with local families to protect their farms so that they can remain a valuable part of our beautiful landscape forever. Farmland placed in an Agricultural Conservation Easement through the Centre County Farmland Trust is permanently conserved for agricultural purposes, regardless of future ownership through the generosity of the landowners. Thanks to our members who make it possible for us to save valuable farmland and preserve the agricultural roots of our community, the Centre County Farmland Trust currently holds easements on 16 properties comprising over 1,400 acres of farmland.
Special Events
Farm Routes is HERE!
Get out map; pack a cooler; and hit the road! Stay tuned for two more routes.
CCFT's new Farm Routes are FREE self-guided driving tours to farmers markets, farm stores, preserved farms, wineries, local foods restaurants, and farm heritage sites. Go at your own pace. Go early and often. Create your own adventure (and share it! #centrecountyfarmlove). There will be two more map-guides: One through downtown State College and Halfmoon Valley and the third stretching from Bellefonte out to Millheim.
Download the Red Barn Route, map-guide No. 1 here. The Red Barn Route is the first of three map-guides, available in print or digital form. It is mostly along Route 45, from the Mt. Nittany Overlook by Harrison's in Centre Hall, around the Grange Fair Grounds, through Boalsburg to Pine Grove Mills -- and markets and wineries in between. SO MUCH to safely see, taste and explore.
---
Follow us on Facebook or join our Email list to stay up to date on upcoming events that CCFT is either attending or hosting.