Buffalo Run Farm and Equestrian Center
Buffalo Run Farm and Equestrian Center
2929 Buffalo Run Road
Bellefonte, PA 16823
https://www.facebook.com/BuffaloRunFarm/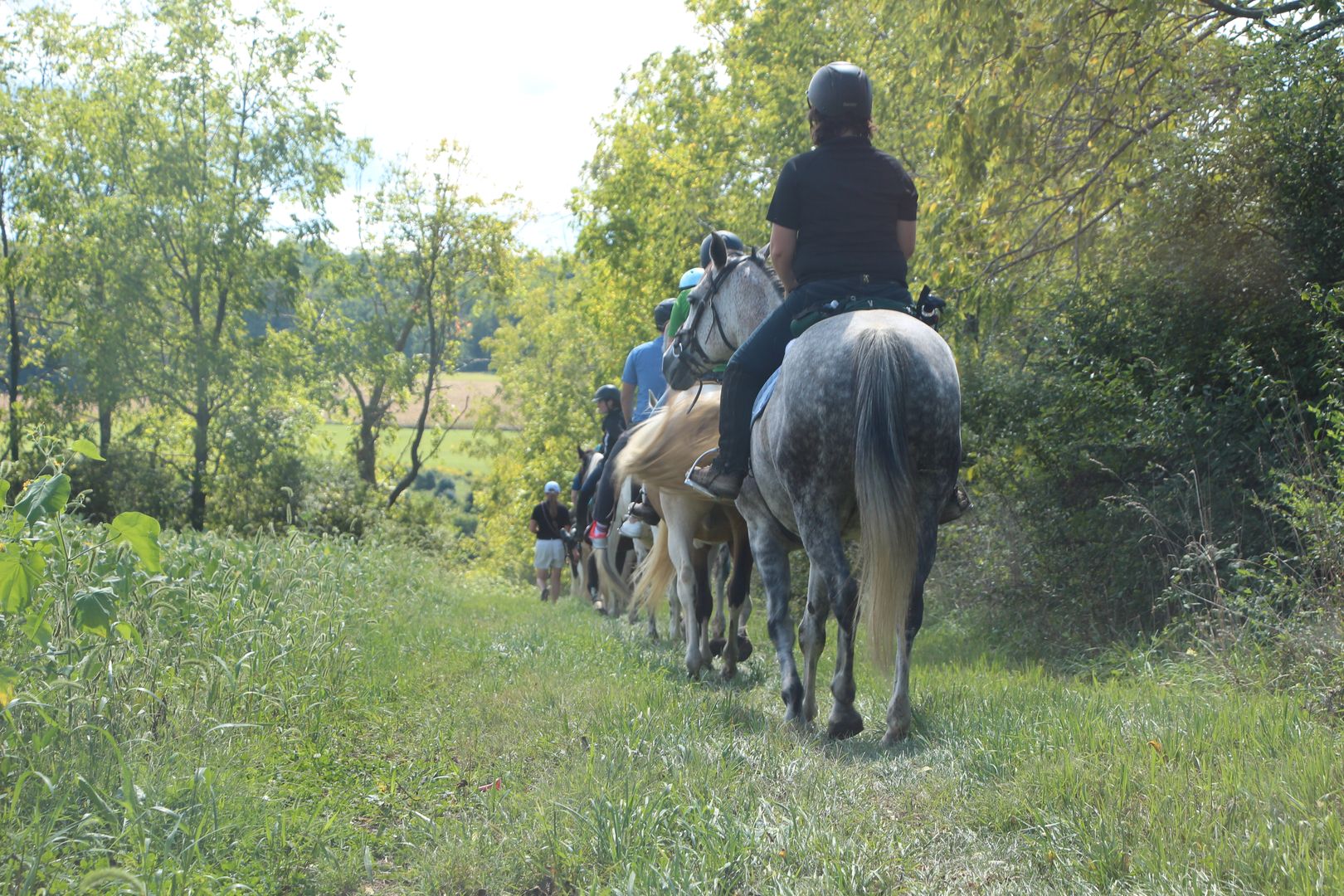 Buffalo Run Farm is located just minutes from State College and situated on 197 beautiful acres. We are a family run farm with years of experience working with local pet enthusiasts. Our focus on offering the highest quality facilities coupled with diversified experiences, has given rise to our top-class equestrian center. We offer many services including boarding, training, beginner through advanced lessons, trail rides and summer camps. Buffalo Run Farm welcomes riders of all ages and disciplines.
Group Tours Information
Trail Rides are offered April through November. Our professionally trained staff will guide you through miles of trails, rolling hills and pastures. Mounted ride times last for approximately one and a half hours long.
Buffalo Run Farm offers several beginner safe horses that will allow even the most inexperienced rider confidence. Riders will be coached on basic safety and riding position in preparation for the ride. More advanced rides and mounts are offered for a more experienced rider or group.
Classes Information
Riding lessons are offered for riders of all ages and skill levels at Buffalo Run Farm!
For beginners just getting into horses and riding, the first half of each lesson consists of horsemanship training including horse safety, handling and care. Each student will learn how to safely brush and tack-up a horse. The second half will be riding on one of our school horses. If it's your first time to the farm, please plan to arrive 10-15 minute prior to the start of your lesson.
For students that demonstrate independence in care and preparation of their lesson mount, as much as 60 minutes is spent riding. For more independent students, you may arrive 20-30 minutes prior to the start of your lesson in order to get your horse ready and to maximize your time for learning in the saddle.
We also offer group lessons. In order to be considered for group lessons, riders must demonstrate a beginning level of independence and safety in the saddle before participating in group lessons. Individuals are grouped into lessons according to ability and common riding goals. Please speak to your instructor if you are interested in a group lesson!
1 Hour Private Lesson $60
1 Hour Group Lesson $45
Package of 10 Lessons $550
Special Events
With almost 200 acres to romp and play, an indoor riding arena and a beautiful new Club House, Buffalo Run Farm is the place to party! We can host gathering large or small to accommodate most size groups up to approximately 50 people. Our Club House is equipped with a kitchen with a double oven, restrooms and a large open private room for your gathering.
Birthday Parties
Our birthday parties are typically a 2 hour experience. We usually begin with pony rides for the kids, then allow you an your guests use of the private gathering room at the Club House. Cost is $250 for up to 10 kids, ($10 for each additional child). All tables and chairs are provided.
Summer Camp
Experience what it's like to live on a working horse farm! Camp participants will have the opportunity to ride each day in lessons, trail rides or games on horseback. ALL levels are welcome! Unmounted lessons are also given daily teaching topics such as: daily horse care, basic vet care, barn management, equine nutrition, equipment, horse breeds and colors. In addition to riding campers get to meet and learn about all of our farm animals, typically including lamb, goats, chickens, yak and cows No riding experience is necessary to attend a camp. Meet other riders all of levels and develop friendships to last a lifetime!
We offer two age groups for summer camp and Eventing camp for youth or adult riders with Eventing and/or Pony Club experience.
We offer half-day sessions for campers ages 5-10 either 9am-12pm OR 1pm-4pm
For campers 10 and up, we offer full day sessions from 9am-2pm.
Special Clothing
Riders are asked to wear long pants or jeans, and comfortable boots or sneakers. BRF will provide you with a properly fitted helmet and tack for your ride.
Features
Visitor Parking Available
Restrooms
Kid Friendly
Group Tours Available
Classes Available
What Is Available
Can Feed Animals
Available for Event Rentals