Big Spring Spirits
Big Spring Spirits
198 Match Factory Place
Bellefonte, PA 16823
https://www.bigspringspirits.com/
https://www.facebook.com/BigSpringSpirits/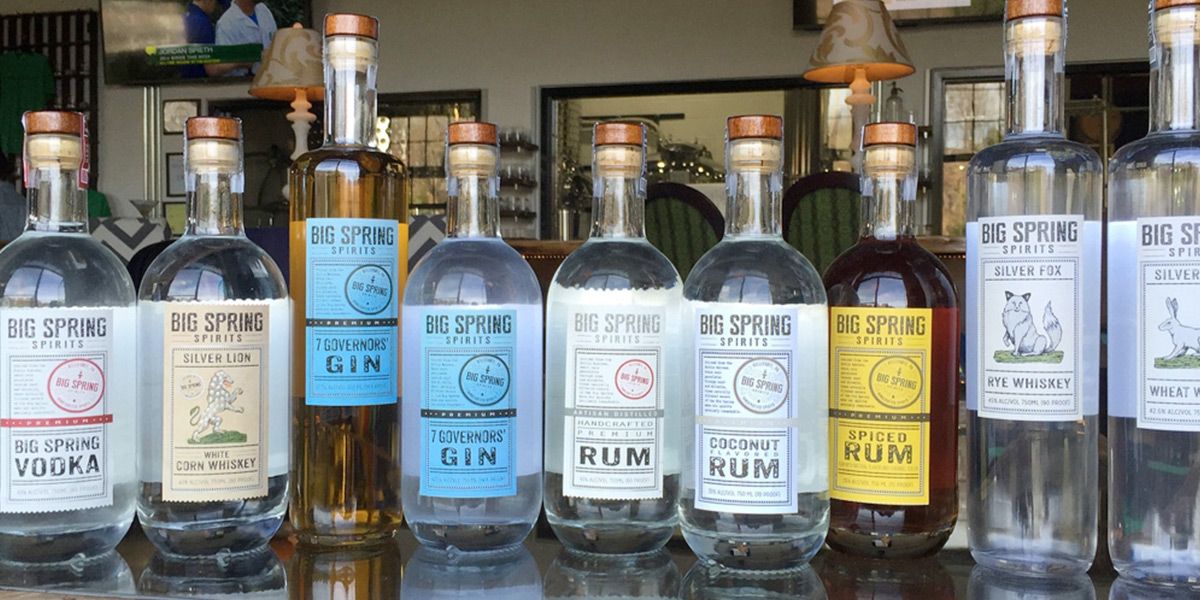 Big Spring Spirits is a Bellefonte-based distillery featuring vodka, rum, gin, and whiskey. The water used to make our amazing spirits comes from the Big Spring, located beside the distillery and was voted best-tasting water in PA.
The corn, wheat, and rye that we use to produce our spirits is acquired within a 25-mile radius of the distillery and spent grains are returned to a local dairy farmer for use as cattle feed. We have been awarded LEED Gold certification, becoming just the second distillery in the country to be recognized for our environmental stewardship. We invite patrons to visit our distillery to sample our spirits, tour our production area, and choose from our menu of over 40 award-winning craft cocktails.
Food from Nomad Kitchen is available Tuesday through Sunday during Tasting Room hours.
TASTING ROOM HOURS:
CLOSED MONDAY
4 P.M. TO 9 P.M. TUESDAY AND WEDNESDAY
4 P.M. TO 10 P.M. THURSDAY
3 P.M. TO 10 P.M. FRIDAY
NOON TO 10 P.M. SATURDAY
NOON TO 8 P.M. SUNDAY.
BOTTLE SALES HOURS:

9 A.M. TO 5 P.M. MONDAY
9 A.M. TO 9 P.M. TUESDAY AND WEDNESDAY
9 A.M TO 10 P.M. THURSDAY AND FRIDAY
NOON TO 10 P.M. SATURDAY
NOON TO 8 P.M. SUNDAY
Outdoor seating is available -- and the grassy areas are dog friendly!
Happy Hours is Tuesday and Wednesday from 4 p.m. to 9 p.m.
$5 highballs, tap cocktails and slushies
Trivia Thursdays
Doors open at 4 p.m.
Trivia starts at 7 p.m.
Group Tours Information
Cost: $15

Includes: cocktail, tour, & tasting of 3 spirits of your choice
Advanced purchase required: Select the date for your tour simply by clicking "Book A Tour"
Big Spring Spirits is pleased to offer tours of the facility. During the 30- minute tour, visitors will learn about how our products are made, including what ingredients we use, from where they are sourced and the complete "grain to glass" process.
Big Spring Spirits is the first LEED-certified (Leadership in Energy and Environmental Design) distillery in Pennsylvania, second in the country and third in the world. As such, our tours highlight how the facility has been engineered to be energy efficient, environmentally friendly, and how our reduce-recycle-reuse policy is implemented.
Large groups or private tours are asked to contact us in advance by phone at 814-353-4478 or by sending an email to Lucy@bigspringspirits.com.
Classes Information
From time to time we offer a Cocktails 101 course on cocktail creation
Also, people can sign up on website for tours of our production area
Special Events
Birthdays, showers, reunions, professional associations
Alcohol Served
As a distillery, all of our spirits are available to sample. Additionally, we have a menu of around 60 craft cocktails to choose from.

Whether you want a classic or complex cocktail, we have something on our expansive menu to make you say "WOW!"
Features
Visitor Parking Available
Restrooms
Handicap Accessible
Kid Friendly
Pet Friendly
Group Tours Available
Classes Available
Buy Products Directly
Free WiFi
What Is Available
Food Served
Alcohol Served
Available for Event Rentals