HAPPY VALLEY AGVENTURES GRANT GUIDELINES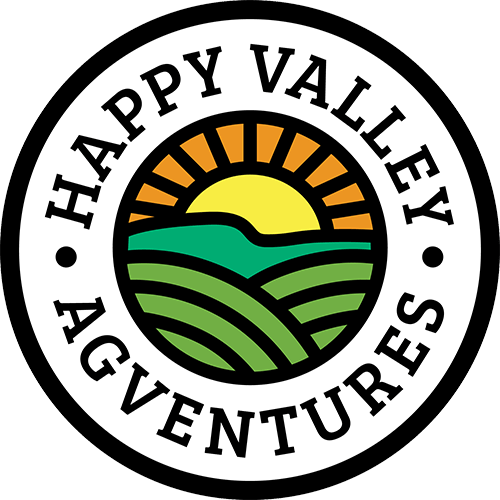 In 2022, The Happy Valley Adventure Bureau (HVAB) and the Chamber of Business & Industry of Centre County (The Chamber) accepted grant applications from Centre County agritourism and ag-related businesses for projects that would help make sites and establishments visitor ready, and that would improve the visitor/customer experience. Funding was awarded based on merit as determined by the HVAB and CBICC. Funding for the one-time Happy Valley Agventures grant program was made possible by the PA Department of Community and Economic Development (DCED) as part of its Marketing to Attract Tourists program.
Twenty-eight agritourism projects were awarded $228,000 in grant funding.
A final project report is due to the HVAB and CBICC no later than May 31, 2023. Final project reports must provide a narrative that will enhance our understanding of the success of your project and include the following:
RETURN ON INVESTMENT (ROI) ESTIMATES
Successful projects will clearly demonstrate how the project addressed visitor readiness or improved the visitor/customer experience, particularly repeat visitors/customers, and visitors/customers from beyond Centre County.
Cost-effective budget management.
All expenditures are logical and adhere to HVAB and CBICC guidelines. Copies of all receipts have been provided and correlate with the success of the project and the stimulation of the local economy.
Includes evidence of additional financial sources, if applicable; match not required.
Auditable financial accounting for all expenditures from grant funds.
Itemized list of expenses with copies of receipts.
Narrative on the stimulation of local economy.
Happy Valley Agventures Grant Program Timeline:

Final reports due: May 31, 2023
Close out of program: June 30, 2023
Program audit: Sept. 30, 2023
CONTACT:
Christie Black
Grant Program Consultant, Happy Valley Agventures
ChristieB@HappyValley.com
Online submission of grant final reports is preferred; if applicants must send a hard copy, please mail to:
Happy Valley Agventures Grant Program
c/o The Happy Valley Adventure Bureau
204 W. Beaver Ave.
State College, PA 16801