HAPPY VALLEY AGVENTURES GRANT GUIDELINES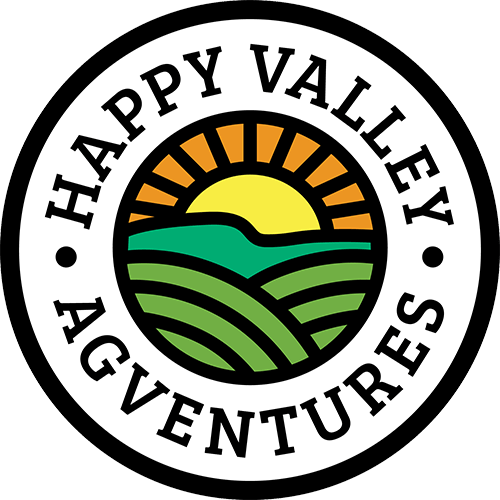 The Happy Valley Adventure Bureau (HVAB) and the Chamber of Business & Industry of Centre County (CBICC) are accepting grant applications from Centre County agritourism and ag-related businesses for projects that will help make sites and establishments visitor ready, and that will improve the visitor/customer experience. Funding will be awarded based on merit as determined by the HVAB and CBICC. Funding for the Happy Valley Agventures grant program was made possible by the PA Department of Community and Economic Development (DCED) as part of its Marketing to Attract Tourists program.
Qualifying businesses must be:
Located in Centre County.
Agriculturally focused.
Open to the public.
Offer an agricultural-related experience, or sell a product that is produced, grown, or locally raised.
demonstrate significant interest in the development of agritourism and ag-related products that provide a visitor experience within Centre County.
Examples of eligible projects include, but are not limited to:
new construction and/or renovations.
Facility enhancements to improve visitor accessibility, alignment with ADA requirements.
Parking enhancements.
Point of sale machinery/technology to assist the facility to become visitor friendly.
Enhancement or development of retail space.
Marketing materials and/or advertising/PR campaigns.
Grants of up to $10,000 will be available.
GENERAL INFORMATION
Grants may be awarded to all qualifying agritourism and ag-related businesses in Centre County.
The HVAB and CBICC reserve the right to establish a "maximum funding limit" based on the total number of applications, total funds requested and total funds available.
Applicants must have a Federal Employer Identification Number (FEIN) to apply.
Applicants should provide specific information demonstrating how grant funds will be used for projects that prepare destinations to be visitor ready or improve the visitor/customer experience.
No grants will be provided for political or sectarian religious purposes.
Although priority will be given to infrastructure improvements, requests for marketing and advertising expenses that benefit tourism and enhance the visitor's experience may also be considered.
Grants will not be awarded for operational expenses.
Grant funds cannot be used to purchase a membership, advertising, etc. from or with any Convention and Visitors Bureau, Chamber of Commerce, or similar organization outside of Centre County.
GRANTS FOR RESOURCES IMPROVEMENT
Visitor facility upgrades/construction projects that will enhance the visitor/customer experience and increase expenditures.
Grants may be awarded to qualifying Centre County businesses and organizations that demonstrate the greatest need for the funds and the strongest commitment to use the funds to provide adequate resources to proposed agritourism and ag-related projects that will enhance the customer and non-resident visitor experience.
Happy Valley Agventures grant funds can be requested for actual project and activity related costs only.
Examples of ineligible project costs include, but are not limited to, workshops and training; market research or feasibility studies; staff costs, including wages, travel, per diem; administrative, overhead, or indirect costs; office supplies; promotional items; subscriptions or membership costs; domain registration and website hosting; routine operation and maintenance costs.
Grant funds will be awarded in proportion with project execution. A call for applications will be announced in March 2022 and must be received no later than 4 p.m. Friday, April 29, 2022. Award amounts must be used within one (1) year of receipt.
Grant funds will be distributed based on the requirements of the HVAB and CBICC.
Awards will be given based on the potential for attracting agritourism visits to Centre County.
An initial payment of the approved grant amount will be disbursed upon receipt, acceptance, and execution of the grant agreement by the HVAB and CBICC. Grant funds are disbursed in proportion with your project execution.
Invoicing from vendors is to be paid directly by grant recipient. Copies of invoices must be included in the final report.
Marketing and advertising campaigns must include The Happy Valley Agventures logo and PA Tourism Logo.
Grant recipients shall follow the logo guidelines when designing advertising (print or digital) or communication pieces and must include The Happy Valley Agventures logo and PA Tourism Logo on all print and digital media as it relates to the awarded grant project.
Important information about the Pennsylvania Prevailing Wage Act
The Pennsylvania Prevailing Wage Act (43 P.S. §165-1 et. seq.) may be applicable to a project funded under this program. Prevailing Wage requirements are generally applicable to grants for construction, reconstruction, demolition, alterations, repair work, renovations, build-out and installation of machinery and equipment in excess of $25,000. If applicable, the applicant is responsible for including prevailing wage rates in all bid documents, specifications, and construction contracts pertaining to the project funded under this program. The Department of Labor and Industry (L & I) has final authority to make prevailing wage applicability determinations. Please direct questions to 717 787-3681.
LOGO GUIDELINES:
Use of the Happy Valley Agventures logo and PA Tourism logo must be approved by the HVAB and CBICC.
Grant Recipients, as a provision of accepting this grant award, must provide adequate proof that the funds received were used for their intended purpose as detailed in the application through the submission of receipts and documentation of the project.
Upon receipt of a grant award, should any changes to the intended purpose of the original application be necessary, you must receive prior approval from the HVAB and CBICC.
Failure to comply may result in penalties up to and including the recipient remitting a full refund of their grant award.
A final project report is due to the HVAB and CBICC no later than May 31, 2023. Final project reports must provide a narrative that will enhance our understanding of the success of your project and include the following:
RETURN ON INVESTMENT (ROI) ESTIMATES
Successful projects will clearly demonstrate how the project addressed visitor readiness or improved the visitor/customer experience, particularly repeat visitors/customers, and visitors/customers from beyond Centre County.
Cost-effective budget management.
All expenditures are logical and adhere to HVAB and CBICC guidelines. Copies of all receipts have been provided and correlate with the success of the project and the stimulation of the local economy.
Includes evidence of additional financial sources, if applicable; match not required.
Auditable financial accounting for all expenditures from grant funds.
Itemized list of expenses with copies of receipts.
Narrative on the stimulation of local economy.
Nothing shall prevent the granting entities, HVAB and CBICC, from withholding part or all the total monies available for awards should the granting entity find that insufficient requests have been made to justify exhaustion of those funds. The HVAB and CBICC will make the final granting decision. The HVAB and CBICC shall be charged with making certain each award meets and or exceeds the established criteria. The HVAB and CBICC shall present each of their final recommendations for awards to the CCGAP Board of Directors for ratification on an individual basis.

Grant awards shall be presented jointly by the HVAB and CBICC.
Happy Valley Agventures Grant Timeline:
Grant program opens: March 15, 2022
Grant program closes: April 29, 2022
Grant award announcement: May 2022
Final reports due: May 31, 2023
Close out of program: June 30, 2023
Program audit: Sept. 30, 2023
CONTACT:
Christie Black
Grant Program and Marketing Consultant for Happy Valley Agventures
ChristieB@HappyValley.com
Online submission of grant applications and final reports is preferred; if applicants must send a hard copy, please mail to:
Happy Valley Agventures Grant Program
c/o Happy Valley Adventure Bureau
131 South Fraser Street
Suite 3
State College, PA 16801